It doesn't seem more than two minutes ago that we were all getting really excited about the new pastel colours, bright prints and lots of shades of blue arriving in the shops for spring. Before we know it the Sales have started!!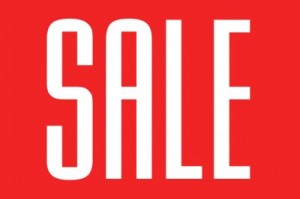 The poor fashion retailers are having a dreadful time with the arctic weather we've been experiencing and have rails-full of stock to shift before the Autumn ranges start to hit the High Street.
So, it's a great opportunity to pick up a fantastic bargain – or to make a terrible mistake!
How many times have you justified a Sale purchase by saying, "It was originally £99 and I got it for £25"? What we must all learn is, it's not important how big the reduction – if the item isn't right you won't wear it – no matter how much you "saved".
Here are my Golden Rules for Successful Sale Shopping:
Go to the Sales with a list of the things you're looking for – and stick to the list
Try not to be tempted by bargain basement prices of things you don't need and already have four of
Buy good basics – I'm currently looking for a good trench coat to replace the one that I've been wearing in the continuous rain for the last five years! Any ideas anyone?
Buy quality fabrics. Silk and cashmere are sensible buys if you make sure styles are classic and colours neutral
Leather goods from high quality Brands are good investments. If you know a make of shoe that fits you well then a stylish court shoe or a smart brogue is money well spent. Leather jackets can be great buys if you make sure styles are classic and you stick to black and brown shades. The orange suede will NOT be in fashion for long!
 Buy garments you really wanted at full price but couldn't afford. If you still want them when they're 50% off then you can justify the spend.
Good quality underwear and swimwear are worth looking out for, although reductions on swimwear often happen later on in the summer
Designer Handbags and Manbags are crazy prices these days but, if you can find reductions, you know the quality is still very good and it's a good present to be put aside for a special gift
There's nothing wrong with buying a few half-price T-shirts in mad colours and prints but be prepared to donate them to the charity shop next spring when it becomes obvious that they look "so last year".
Sale shopping can be fun and it's a great feeling to have bought yourself an amazing bargain. Just make sure it's a bargain that you need, that fits you properly, suits you and that you promise to wear!