There is a "right" pair of shoes for every outfit and it can be so annoying if we don't happen to have them in our wardrobe! Shoes may predominantly be a female obsession but this applies to both men and women – so you all need to read on.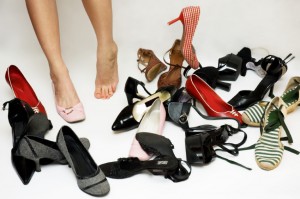 Style, colour and most importantly, height of heel are all factors to be considered. Any of us can put on a great pair of trousers, know they look amazing with the top we're wearing but then, disaster – we remember we haven't got the right shoes to wear with them and off they come. Back into the wardrobe until the next time we can't wear them.
Stop right there! Instead of putting it off, pull out all the trousers, skirts and dresses that can't be worn because of lack of appropriate footwear. Then, a decision has to be made. Do you need to alter the garment or do you need to purchase new shoes/boots?  If it's the former then make sure you know which shoes you want to wear with each garment and take them with you to the alteration specialist – I'm assuming here that most of you won't be doing your own sewing!
If new footwear is the only option, and which girl doesn't always need a new pair of shoes, make sure you take the troublesome garments with you when you make your investment. Once you've got the right shoes in the perfect colour and the ideal heel height you'll be good to go and those great trousers will never be put to the back of your wardrobe again.
See the Right Shoes – Part Two, which I'll send to you in my next blog, which looks at choosing the right shoes for each occasion. In the meantime, see below for some shoe styling tips.