I was inspired to write this Blog by a certain Betsy Smith. I read about her in this weekend's Sunday Times Style magazine. She's an 81 year-old artist who appeared in the "What are you wearing" section and she looked WONDERFUL!!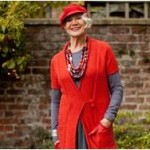 Betsy has worked out her own Personal Style, knows what shapes and colours suit her and is fantastically confident in her look. She has a boyfriend who is 14 years her junior – so she must be doing something right!!
However, you don't need to wait until you're in our eighties to develop your own Personal Style – do it now! It starts with knowing who you are, what type of visual message you want to be giving, thinking about what clothes are appropriate for the different things you are doing in your life and then a bit of experimentation with different styles and colours.
You'll know when you've achieved your own Personal Style because you'll feel confident in your clothes, you'll always know what to wear when and your friends will tell you how great you look.
A client recently told me how someone had come up to her when she was wearing one of the new outfits we'd bought together and said "Wow, you look designer – need I say more"! That had never happened to her before, she had definitely found her Personal Style and she felt great.
So, don't hang about, go ahead and create your own Personal Style.